ANAVI Light Controller is an open source WiFi development board for controlling 12V low-cost analog RGB LED strip. Although it has been designed primary for home automation, recently ANAVI Light Controller was integrated in an industrial environment.
Wing.eu is an innovative French start-up company reinventing the shipping. The company specializes in "first mile" logistics and provides services to e-merchants. Their warehouses in Paris, Marseille, Bordeaux and Lyon package and ship e-commerce orders. Wing.eu can be integrated with all leading e-commerce platforms, including the popular open source solutions PrestaShop, Magento and WooCommerce.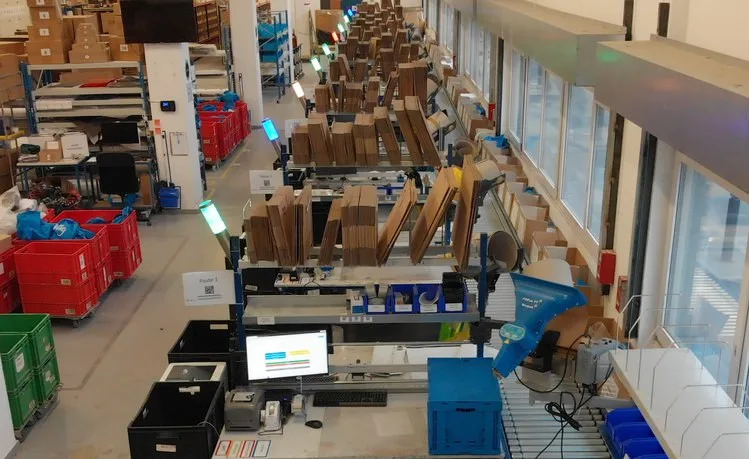 Running around the clock such an innovative logistics business requires excellent organization. To ensure high efficiency of the working process Paul Cancouet, project manager at Wing, implemented the Japanese manufacturing system Andon using ANAVI Light Controller.
Andon is a manufacturing term to alert about a problem in real-time. Pioneered by Toyota after World War II, Andon provides the ability to detect problems affecting manufacturing in real-time and fix them as soon as possible.
Paul and his team at Wing constructed a light indication on each desk at their warehouses, using ANAVI Light Controller, 12V RGB LED strip, appropriate 12V power supply, outdoor wall light, PVC tube and a 3D-printed socket. All Andon light indicators are communicating over the machine-to-machine protocol MQTT. The software on the server is written in JavaScript and Node.js. It spreads the information to Google spreadsheets, Slack channel and a HTML5 web interface that acts as a global monitoring dashboard.
The best part is that Wing.eu shared their server side source code in GitHub. ANAVI Light Controller is also entirely open source as the board has been certified by the Open Source Hardware Association and the default firmware is also available as an Arduino sketch at GitHub. Thanks to open source other factories can easily adopt the same solution and significantly improve the efficiency of their manufacturing process.
Paul Cancouet shared more details as a Crowd Supply field report. His industrial automation has been also covered by cnx-software.com.
ANAVI Light Controller is available at our distributors around the world: Crowd Supply, neven.cz and Pi Supply.